2017 October The Thrill of Love
Written by Amanda Whittington
10th – 14th October 2017
Director Pat Brinicombe
A divorcee with a young child to care for, Ruth Ellis works in the kind of nightclubs where more than just drink is on offer. The girls work hard, play hard and dream of living like movie stars. Then she meets the wealthy, womanising David, a racing driver with whom she becomes obsessed. Fame comes – but not in the way she imagined.
Why does their relationship end in murder? Why does she plead not guilty but offer no defence? And who is she trying to protect?
The Thrill of Love, Amanda Whittington's gripping play, dramatises the true story of Ruth Ellis, the last woman to be hanged in Britain, and takes a fresh look at the woman behind the headlines.
'Our most consistently popular female dramatist' Guardian
A Workington Playgoers Production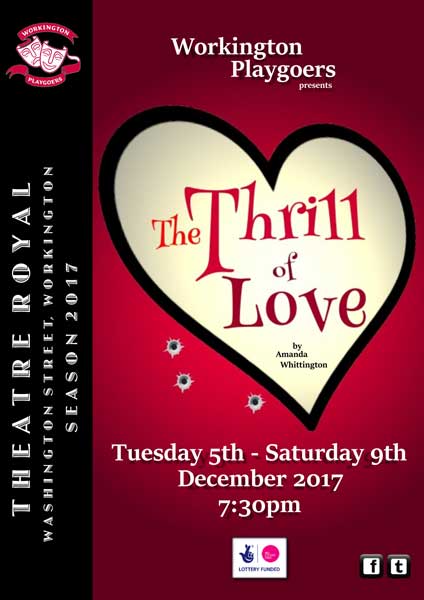 Show Details
Doors open: 6:45pm
Performance: 7:30pm
Running Time: 2.5hrs with intermission
Date: Tues 10th – Sat 14th Oct
Tickets:
Adults £11
Concessions £10