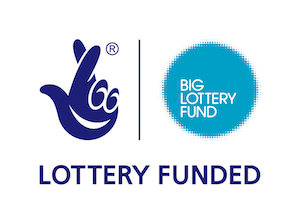 The Big Lottery Fund is responsible for distributing 40% of all the money raised for good causes by the National Lottery. In the 2014/2015 financial year, they awarded more than a billion pounds to projects with a social mission. Every year they distribute millions of pounds of the National Lottery's good cause money to community groups and charitable projects around the UK. In 2015 we were one of the fortunate recipient groups.
We are also very fortunate to receive ongoing support from the following organisations
The Monument Trust is one of the Sainsbury Family's charitable trusts and takes a particular interest in funding projects concerned with social exclusion and homelessness, arts and cultural projects in economically depressed areas and criminal justice initiatives, including prisoner resettlement and alternatives to custody.

The Hadfield Trust, established in 1997, was endowed through the generosity of one family who had been resident in Cumbria for many years. The Trust awards cash grants to charitable organisations in Cumbria, particularly those working in the fields of social needs, youth and employment, help for older people, the arts and the environment.

The Francis C. Scott Charitable Trust awards over £1 million in grants every year to charities operating in Cumbria and North Lancashire. Their core purpose is to enable young people from the most deprived parts of Cumbria and North Lancashire to achieve their full potential in life.
The Sir John Fisher Foundation was established in 1980 by Sir John and Lady Maria Fisher. The Foundation's objective is to distribute its income to charitable causes throughout the UK, but especially for the benefit of people living in Barrow-in-Furness and the surrounding area. The Foundation supports charitable causes, particularly maritime, medical and disability, education, music, arts and community projects in and around Barrow-in-Furness.
WREN is a not-for-profit business that awards grants to community, environmental and heritage projects across the UK from funds donated by FCC Environment. Since 1998, WREN has granted over £150 million to more than 6,000 projects that benefit people living within 10 miles (16km) of an FCC Environment landfill site.
We are always delighted to hear from companies and organisations that would potentially like to sponsor the Workington Playgoers.
If you would like to offer personal sponsorship we would also be thrilled to hear from you.
We credit our Sponsors on our website and across our publicity material for individual productions, including posters, flyers and programmes.
You can offer ongoing sponsorship or support a single production – however you are able to help – just get in touch and we look forward to talking to you.