2019 December The Vicar of Dibley
by Ian Gower and Paul Carpenter
Adapted from the original TV series by Richard Curtis and Paul Mayhew-Archer. With kind permission of Tiger Aspect Productions
This hilarious play (adapted from the popular 1990s TV comedy) is set in the sleepy village of Dibley, where the elderly local vicar has just died and the parish council members, led by their pompous, opinionated chairman David Horton, are waiting to greet his replacement. They are definitely not expecting anyone like Geraldine Granger – 'a babe with a bob cut and a magnificent bosom'! Nevertheless, kind-hearted, fun-loving Geraldine (aided by pea-brained verger Alice Tinker) sets out to win over the oddball inhabitants of Dibley while staying true to herself.
Although female vicars are no longer considered particularly unusual, the play's humour has remained fresh, partly thanks to the wonderfully eccentric characters who make up Geraldine's congregation. Don't miss this show, which will definitely put you in a festive mood in the run-up to Christmas!
A Workington Playgoers Production
Cast recreates popular TV sitcom characters
Dibley is transported to the Theatre Royal, as the much loved 1990s TV sitcom comes back to life in stage play version.  The fast paced witty production takes the pick of the best episodes in an entertaining show that will leave you laughing out loud.  Excellent casting, characterisation and script ensures that anyone that was a fan of the show will thoroughly enjoy the play and anyone that missed it the first time round is in for a treat.
After the elderly vicar of Dibley dies suddenly, parishioners are shocked to find that the Bishop has appointed a woman in his place. We follow Geraldine as she attempts to win over the villagers.
The actors have managed to faithfully recreate the mannerisms of diffident waffler Hugo played by James Last, dotty naive and adorable Alice Tinker by Rosie Matin, selfless peace keeper and chocoholic Geraldine, captured by Rebecca Wilson, self-opinionated pompous parish council chairman David Horton, by Jim Samson, pragmatic farmer Owen Newitt, played by Stewart Grant, eccentric Letitia Cropley, by Liz Chapman, dithering Jim Trott, recreated by Morgan Sweeney and pedantic Frank Pickle by Paul Tharagonnet.  It is hard to single out one stand out performance as the cast works so fluidly together, with all the parts linking seamlessly. It is a convincing and polished team performance.  Director Tony Parker said: "We all had lots of fun with this one."  The playgoers have been rehearsing for eight weeks and said it has taken them quite a while to be able to get through the script without laughing.
This play is a great choice to get you in the mood for the goodwill season and runs from December 3 to 7 at Theatre Royal, Washington Street, Workington.
Tickets are £11.50 and can be booked online or on the door, or via the booking office by leaving a message at 01900 603161.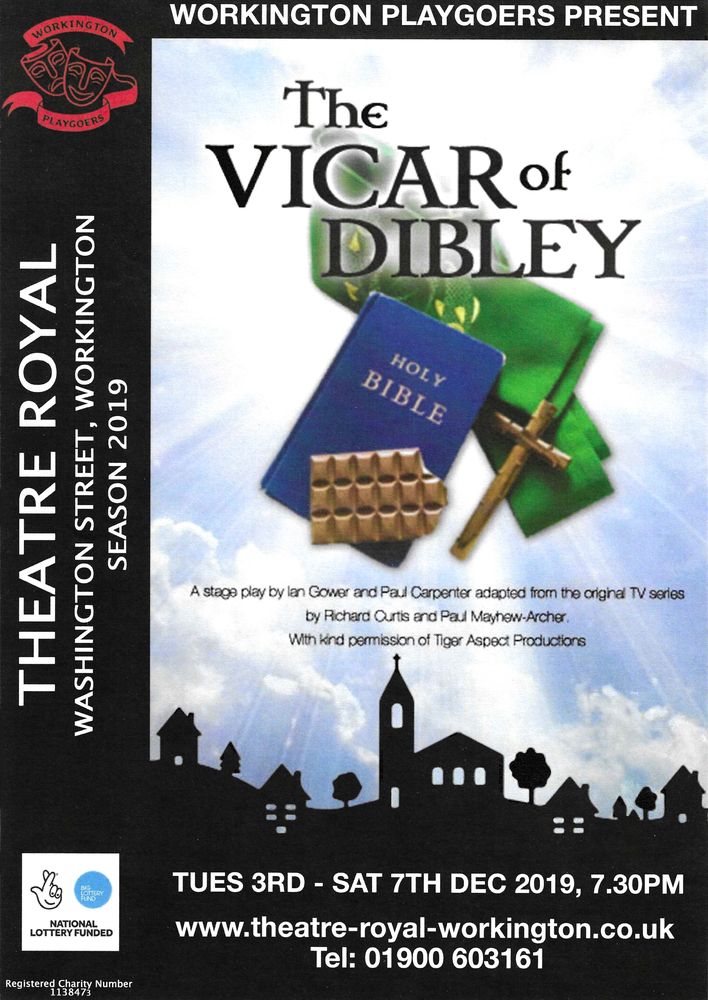 Show Details
Doors open: 6:30pm
Performance: 7:30pm
Running Time: 2.5hrs with intermission
Date: Tues 3rd – Sat 7th Dec 2019
Tickets:
Adults £11.50
Concessions £10.50
Vicar of Dibley brings Christmas cheer to the Theatre Royal
Christmas is coming and the Workington Playgoers are getting ready to put on a show that will put everyone in a festive mood. The Vicar of Dibley will run from Tuesday 3rd to Saturday 7th December at the Theatre Royal on Washington Street.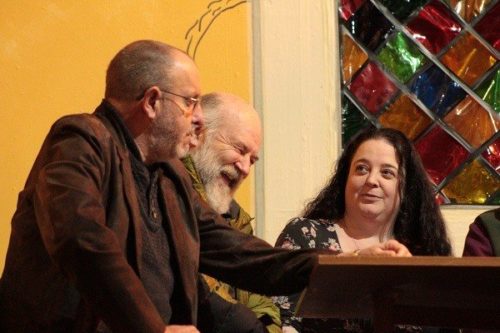 Based on the much-loved 1990s TV sitcom by Richard Curtis and Paul Mayhew-Archer, the stage version is by Ian Gower and Paul Carpenter (presented by kind permission of Tiger Aspect Productions). Director Tony Parker comments: 'This hilarious comedy faithfully reproduces religious life in the village of Dibley with its menagerie of unforgettably dippy characters, including "cactus-brained" Alice and Hugo, sex-obsessed farmer Owen Newitt,  the "no, no, no, no" man Jim Trott, and the world's worst cook Letitia Cropley, all under the exasperated eyes of Reverend Geraldine Grainger and Parish Council chairman David Horton.'
Starring Becky Wilson as Geraldine, Rosie Matin as Alice, and some veteran Playgoers' actors as the wonderfully eccentric members of Dibley Parish Council, the Playgoers believe The Vicar of Dibley will make the perfect pre-Christmas family theatre outing.
Tickets (£11.50 or £10.50 concessions) can be booked online or on the door.
We are a long way from the bright lights of London's West End but that doesn't mean you can't enjoy a regular night at the theatre in West Cumbria.
I have been lucky enough to attend a few shows at Workington's charming Theatre Royal this year and it made me wonder how much work is required to put on a four-night run?
Workington Playgoers put on eight shows every year and Maggie Bedford, who is an actor and assistant director, explained a lot goes on behind the scenes bringing a production to the stage: "Rehearsals start around eight weeks before but planning starts well before that, perhaps back to the previous year. We are lucky because there are a lot of people in our area with very good theatrical knowledge and training. I don't, although I was a teacher for 40 years and if you can stand in front of a class with a straight face then it's probably the best training there is."
The Playgoers are volunteers and their skills cover everything from acting, directing, stage management, sound and light production, set building and costume design through to manning the box office and bar.
I spent a night at rehearsals for their recent production of 'The Vicar of Dibley' and I was amazed by the attention to detail.  Taking a seat in the auditorium on opening night, you're unaware of the array of decisions and thought given to positioning props, timing stage exits and entries along with the reactions, positions and timings of the actors themselves. The production has been analysed and streamlined long before the curtain rises.
Rebecca Wilson, who played the title role Geraldine Grainger, explained the dedication needed: "It's very involved and it's not just a case of coming in for rehearsals. We will meet up with other actors and practise our lines. If I thought about it, I'd estimate it at over 100 hours per show."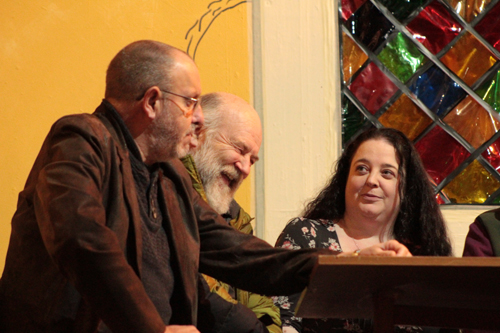 Jim Samson played David Horton and he explained why he loves performing: "When the production comes together and you have convinced the audience you are the characters, there isn't a feeling like it. We do it because we love it. It's like a family and we become very close friends."
Former maths teacher, Tony Parker, was the director and his involvement in amateur dramatics stretches back to 1970. He calculates he has around 100 productions under his belt, with 25 as a director: "Some people do it for the camaraderie and some for the sense of achievement but others like a chance to be another character altogether. Planning began back in July for this December production, it's intensive but I like the problem-solving and challenges of directing."
The Playgoers has plenty of great actors and many are involved with other groups across Cumbria. "We also have an excellent youth group," says Maggie. "But many of them go off to study drama, so the problem is we never get to keep them for very long."
Photographs by Chris Lewis
Photographs by Chris Lewis