2017 July The Wind in the Willows
Adapted from the book by Kenneth Grahame and directed by Millie Hardy Sims
"Mole has a sudden case of spring fever, gives up on her house-cleaning, and wanders in the fields and meadows. She finds himself by a river (she has been such a stay-at-home that she has never seen it before) and meets the Water Rat, who invites Mole into her boat, something else she has never seen before. "Believe me, my young friend," Rat says dreamily, "there is nothing —absolutely nothing —half so much worth doing as simply messing about in boats."
A world of friendships, the joy of carefree wandering, of picnicking, and playing has opened up for Mole. Mole and the Water Rat and the Badger go to Toad Hall to try to help their friend Mr. Toad who has a bad habit of reckless driving. Toad has quite a few adventures. His irresponsible living and extravagance lead to the loss of his home to the barbaric stouts and weasels. The four friends go to battle to regain Toad Hall. The story ends with a party where all the friends rejoice at Toad's return. The story is set in the 1910s in Oxford, England. 
"The Wind in the Willows" is a timeless British classic about the simplicity of life away from the hustle-bustle of the world, and most importantly lasting friendships. The story follows Mole, Ratty, Toad and Badger on their adventures along the River-Bank, through Wild-Wood and out into the Wide-World. All of our characters are anthropomorphic, instead of the mixture of animals and humans that appears in the book, a decision made to fit in with the enormous grass furrows that will be our set."
This stage adaptation of the children's classic, performed by young Cumbrian actors, will have thrills and spills galore to entertain audiences of all ages.
A Theatre Royal Second Star Youth Theatre Production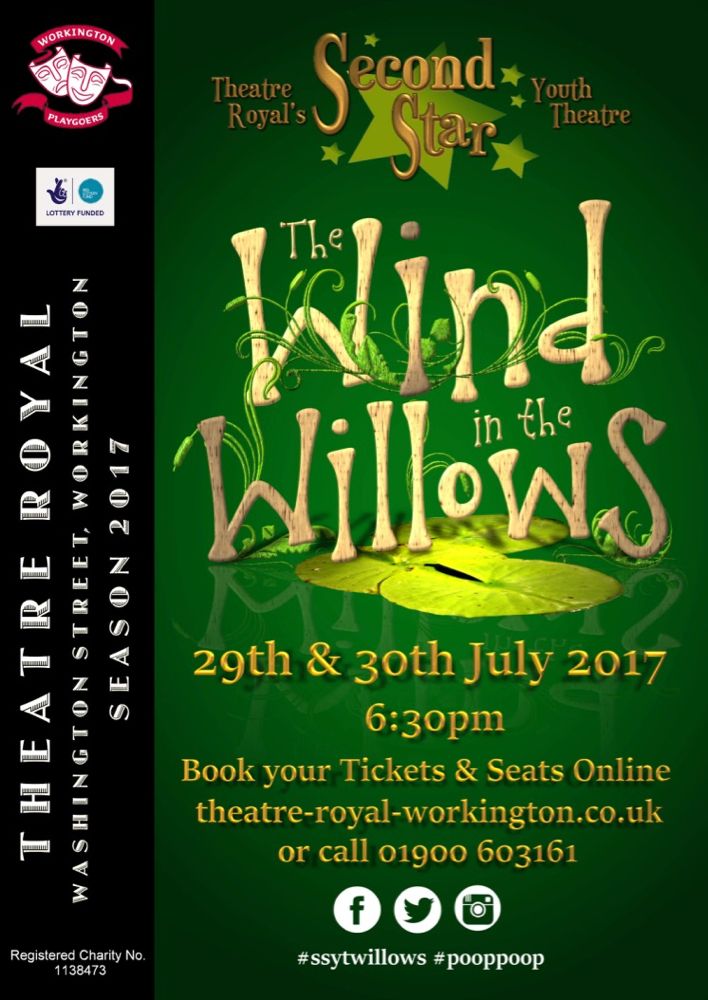 Show Details
Doors open: 6pm
Performance: 6:30pm
Running Time: 2.5hrs with intermission
Date: 29th & 30th July
Tickets:
Adults £7
Children £5