2021 September Portavadie Gold
Written and Directed by Morgan Sweeney.
Music Written and Directed by Brian Melville.
A full-blown musical play with 12 new songs, a 6-piece Band, a cast of 20, and 10 singers in a Gospel Choir.
A very brief moment of strong language.
"The Lost Gold.
The Runaway Lovers.
The Ceilidh – Always out of Reach.
The worst Storm in Twenty Years and a Ship in Peril on the Sea.
The Char-a-banc with the Gosple Choir and the Music that will Set you Free."
Rehearsals and Back Stage Fun – Photographs by  Alison Shutt and cast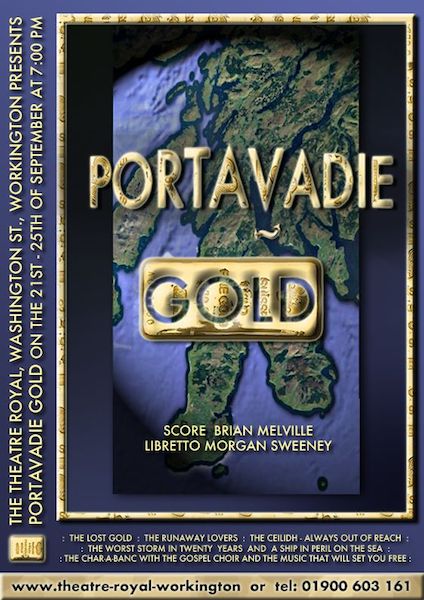 Date: Tuesday 21st – Saturday 25th September 2021
Start Time: 7:00pm
Doors open 30 minutes before performance times.
Tickets: £12 Concessions: £11
Times and Star Preview
6th September 2021
Workington's Theatre Royale to host production of 'Portavadie'
By Ben MacDonald 
Actors in Workington are set for a curtain call as a brand-new production takes to the stage next week.
The Theatre Royal will play host to 'Portavadie', a play written and directed by Morgan Sweeney from Tuesday 21 to Saturday 25 at 7:30pm.
The play is set at the ferry terminal of Portavadie, a village based in Argyll and Bute in the Scottish Highlands. Initially built as a platform to extract oil from the North Sea, the village's port has been used by a local fish farm company since the mid-1980's.
Discussing the premise of the show, Sweeney said: "The story revolves around two young lovers who have ran away from the ganglands of Glasgow. They are due to take a ferry across the coast, however the mountainous seas have forced the boats to be cancelled.
A touring gospel choir and ceilidh band are also forced to abandon plans to travel, however set up on the terminal to perform to the prospective passengers. We also hear about a man who took his lottery winnings across the waters to turn into gold, however his boat sank on the voyage back."
"Like the early work of Stephen Sondheim, it is a jolly night with the show bouncing from one song to another."
Discussing the preparation for the show during lockdown, Mr Sweeney stated that he quite enjoyed the process. He said "It usually takes 18 months to write a play anyway! This show took two years to create and throughout lockdown I continued to collaborate with Brian Melville who created the music and will be the show's Musical Director.
It'll be weird to suddenly change gear. I feel like writing is quite solitary whereas putting on a show is a very social thing to do, but I am looking forward to it."
Speaking about the Workington Playgoers Club, who will take part in the show, Morgan continued: "We have a lot of actors in the group, there are 60 active members, and we also have 30 junior actors. Everybody who is a member come for their love of theatre and stay due to the social benefits, being around people with the same interests."
Featuring a cast of 30 actors, Sweeney finished by stating that he hopes audiences will enjoy the performances. He continues: "There are 14 songs in the two hours that are very enjoyable. I hope people leave the theatre humming along to the tunes."
Production Photographs by Chris Lewis Photography
Backstage during production – Photographs by cast