2023 September Four Weddings and an Elvis
Written by Nancy Frick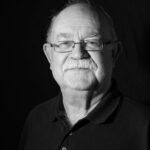 Director Tony Parker
Nancy Frick is an American playwright and Four Weddings and an Elvis is a romantic comedy and was first produced in New York in 2010.
Sandy has been married four times and divorced three times.  Nevertheless she is an incurable romantic and owner of a Las Vegas wedding chapel.  Here she strives to give prospective customers the wedding of their dreams whatever they may be.  Nothing phases Sandy – a Star Trek wedding in Klingon, a Gangster wedding, being married in a helicopter over the Grand Canyon.  She can arrange them all.
Into her Chapel come a succession of brides and grooms and in the play we witness four of her most memorable weddings.  There are the couple who have travelled from England just to get married as revenge on their ex partners; the arrogant ageing stars who are getting married as a publicity stunt in a last ditch attempt to boost their flagging careers; and the tough ex convict and the mild mannered postal worker who are very much in love.  The last wedding is the special one.  Despite everything Sandy is going to give it one more go and is marrying the love of her life.  Unfortunately the person was to officiate is indisposed so who will perform the ceremony?  Look at the title of the play.  There's a clue.
This is a very funny play so if you fancy a peep into a wedding chapel where anything goes this is the one for you.  
Audience members have a Selfie with 'ELVIS'
Date: Wednesday 6th – Saturday 9th September 2023.
Start Time: 7:30 pm
Doors open:  30 minutes before performance times.
Tickets:
All Tickets £14
Tickets can be bought online or in person at the theatre each night of the show.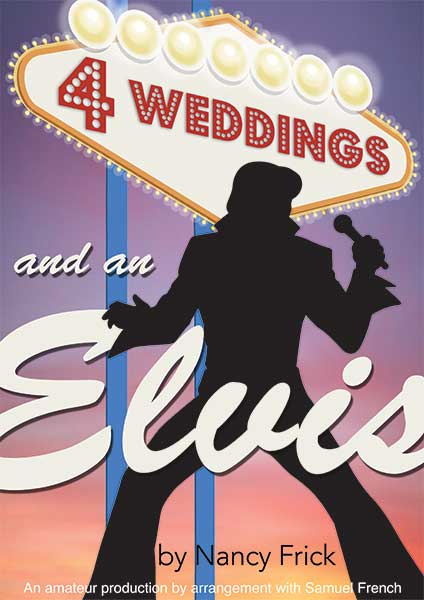 An amateur production by arrangement with Samuel French
Wedding One – The Payback
Rebecca Stringer plays BEV, the angry bride
Geoffrey Hall plays STAN, the angry groom
Craig Norendal plays JOHN, the Elvis Minister
Ruth Hellen plays the wedding chapel owner SANDY
Wedding Two – The Comeback
Anne Bowmer plays VANESSA, the bride, a fading actress
Len Wainwright plays BRYCE, the fading actor
Maynall Weir plays LOU, the minister, 70s
Ruth Hellen plays the wedding chapel owner SANDY
Wedding Three – The Real Thing
Millie Hardy-Sims plays FIONA, the tough ex-con
Karl Sanderson plays MARVIN, the groom, gentle postal worker
Matthew Poynton plays FIST, scary friend of the bride
Ruth Hellen plays the wedding chapel owner SANDY
Wedding Four – Sandy & Ken – The Epilogue
All the above
Paul Theregonnet plays the PRODUCER
Morgan Sweeney plays KEN
All production photographs by Chris Lewis