by Trevor Griffiths
15th – 19th October
Directed by Stewart Grant
First performed in 1975, Trevor Griffiths' ground-breaking play Comedians raised important questions about society, the nature of comedy, social class and racial stereotyping. It revealed the disturbing reality behind mainstream comedy which at the time largely consisted of racist and sexist jokes, typified by the hit ITV programme 'The Comedians'.
Set in a Manchester evening class run by aging ex-music hall comic Eddie Waters, the play follows the progress of six would-be comedians, desperate to make a name for themselves on the professional circuit. They are about to perform at a working men's club in front of an agent who can offer them a way in to fame and fortune. In an era when sexism and racism were the norm, how low will the lads go to win success?
Our production of this astonishing play will be as true to the original performance as we can get. By staging it in this way we will be asking how much attitudes have really changed in the last 43 years.
Please note: The play contains frequent swearing and foul language. It also contains language and attitudes which are now socially unacceptable but were current at the time.
A Workington Playgoers Production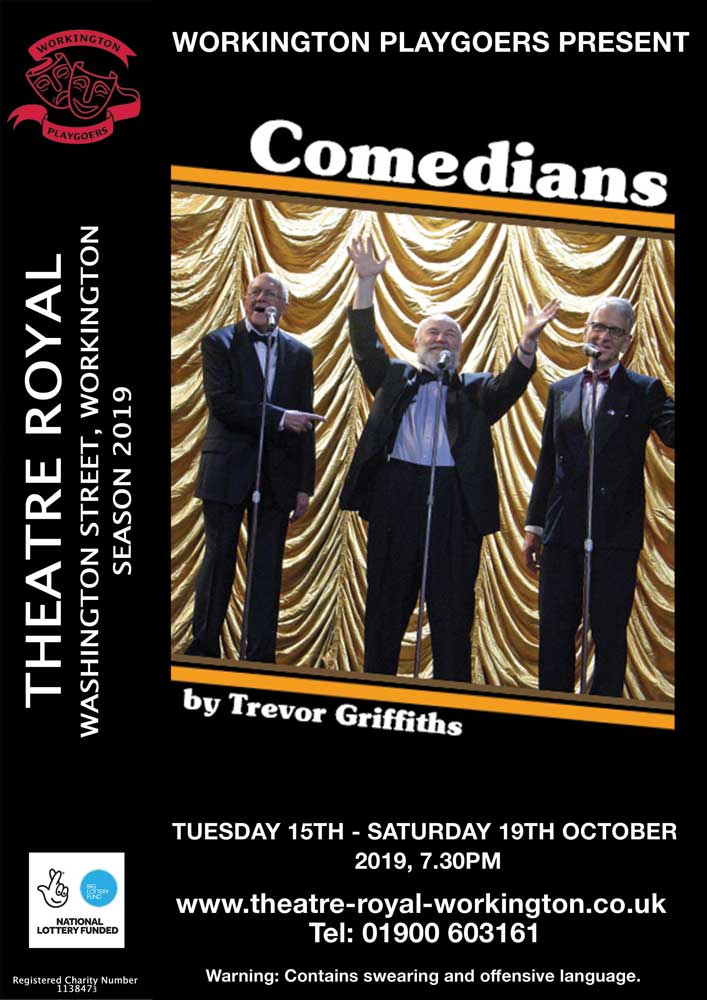 Show Details
Doors open: 7.00pm
Performance: 7.30pm
Running Time: 2.5 hours with intermission
Date: Tues 15th – Sat 19th October 2019
Tickets:
Adults £11.50
Concessions £10.50
'Comedians': the tears of laughter
What is comedy? What is laughter? Where do they come from, and why?
As one philosopher suggested at the start of the last century, in a totally caring society, a society in which everyone was wholly attuned to the feelings of others, laughter would be almost impossible – for laughter generally demands a 'victim'. Remember all those silent slapstick comedies? What about the downfall and pain of the man who slips up on the banana skin? Or the violence in a Tom and Jerry cartoon? Consider the humiliations suffered by the likes of Tony Hancock, Harold Steptoe, Inspector Clouseau, David Brent and (more recently) 'Fleabag'. The truth is that we are often laughing at the real or imagined hurt or failure of another when we react to comedy.
Society has gained in sensitivity over the decades where the feelings of others are concerned; and our attitude to what is acceptable in the field of humour has changed markedly. Most of us are no longer tolerant of the sexist or racist 'joke'. What was considered suitable subject matter for humour 40 years ago – mothers-in-law, homosexuality, disabled people, Irishmen, buxom blondes – is now largely deemed unacceptable and inappropriate. The new buzzword is 'woke', an adjective which describes a state of awareness of sensitive issues and injustices in society. Our present-day society has become 'woke' to the feelings of others.
Trevor Griffiths' most famous play, Comedians, makes its audience think deeply about the nature of comedy and its power to sustain and reinforce cultural stereotypes and prejudice by its choice of 'victim'. It was written and first performed in the mid-1970s, long before the rise of 'Alternative Comedy' in the 1980s ousted the type of material which was a staple of stand-up performance in the old Variety Shows and working men's clubs. (Indeed, some speculate that this play actually helped bring about 'Alternative Comedy'.)
Comedians exposes what lay beneath the repertoire of many comics at the time of its writing:
'A joke that feeds on ignorance starves its audience. We have the choice… Most comics feed prejudice and fear and blinkered vision, but the best ones, the best ones…illuminate them, make them clearer to see, easier to deal with. We've got to make people laugh till they cry. Cry. Till they find their pain and their beauty. Comedy is medicine. Not coloured sweeties to rot their teeth with.'
Griffiths' play remains a brilliant and searching critique of humour in society and culture, and raises the possibility of a new comic awareness, cleverly drawing attention to the prejudices which often lurk, hidden and unquestioned, under the guise of a joke. Comedy is not just a laughing matter, you see, but food for some serious thought.
Geoffrey Hall