By Jim Cartwright
19th – 22nd September 2018
Director Beryl Ballance
A pub in the North of England is the setting for Two. Penned by the master of observation, Jim Cartwright, this play delivers on all levels.
Wonderfully drawn characters come and go in one busy evening at the pub; every one of them with a story to tell. Some of these customers will bring about laughter in abundance; some will bring tension and have you seething with anger. Others will bring a tear to the eye. As well as the brilliantly engaging script, Jim Cartwright has the expertise to make some of the dialogue sound almost poetic.
Come along and be a fly on the wall, in this newly refurbished pub, and listen to the secrets of these complex regulars. What is the secret passion of a loyal old woman when she isn't tending her ailing husband? What causes the worm to turn for the long suffering henpecked husband? How does an old widower deal with his loss? Why does a lone woman come into the pub when it is last orders, what and whom has she come for?
At the hub of the pub as in any other, are the Landlord and Landlady. As with the other characters, this couple have their own story to tell. Although deep down this couple have a deep love for each other, they bicker constantly, in a much more vicious way than innocent banter. The reason for the animosity, or even hatred, they vent towards each other becomes apparent in an explosive showdown at the heart rending climax of their story. Two is pathos at its best, and certainly not to be missed.
Written by Director Beryl Ballance
"Jim Cartwright is one of the mavericks of British theatre." Daily Telegraph
"Brilliantly, surrealistically and comically poetic." Sunday Times
A Workington Playgoers Production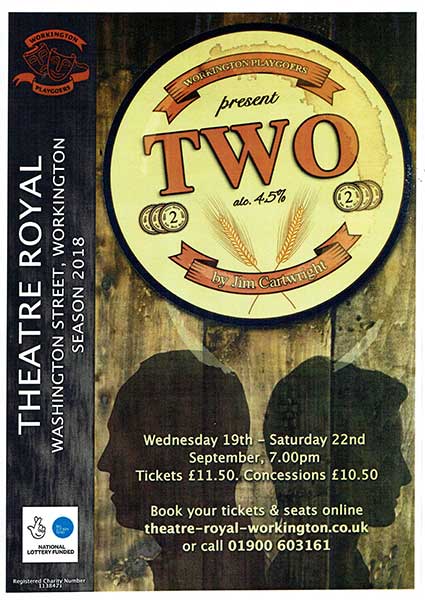 Show Details
Doors open: 6:30pm
Performance: 7:30pm
Running Time: 2.5hrs with intermission
Date: Wed 19th – Sat 22nd September 2018
Tickets:
Adults £11.50
Concessions £10.50