2023 October THE MCDOUGALLS SPACE ADVENTURE
THE MCDOUGALLS SPACE ADVENTURE
A Musical Show for all the Family
Everyone's favourite children's theatre company present a spectacular new show for all the family!
Join Auntie Aggie, Max and Morag the Rabbit onboard a rocket ship – as they hurtle into the atmosphere on an  intergalactic expedition!
Fasten your seatbelts for the trip of a lifetime in their homemade rocket ship!  From a sunny stop in Mercury to a meeting with a  Martian, there so much to do and see! And is the moon really made of cheese?
Packed with singalong songs such as Zoom Zoom Zoom, We're Going to the Moon and Twinkle Twinke Little Star, for the most exciting five star family show this side of the galaxy.
Audiences are encouraged to come dressed as astronauts and aliens!
Find out more about this musical extravaganza PLUS the latest news and offers by checking out The McDougallls on Facebook, Instagram and Twitter, or by tuning into the latest YouTube videos.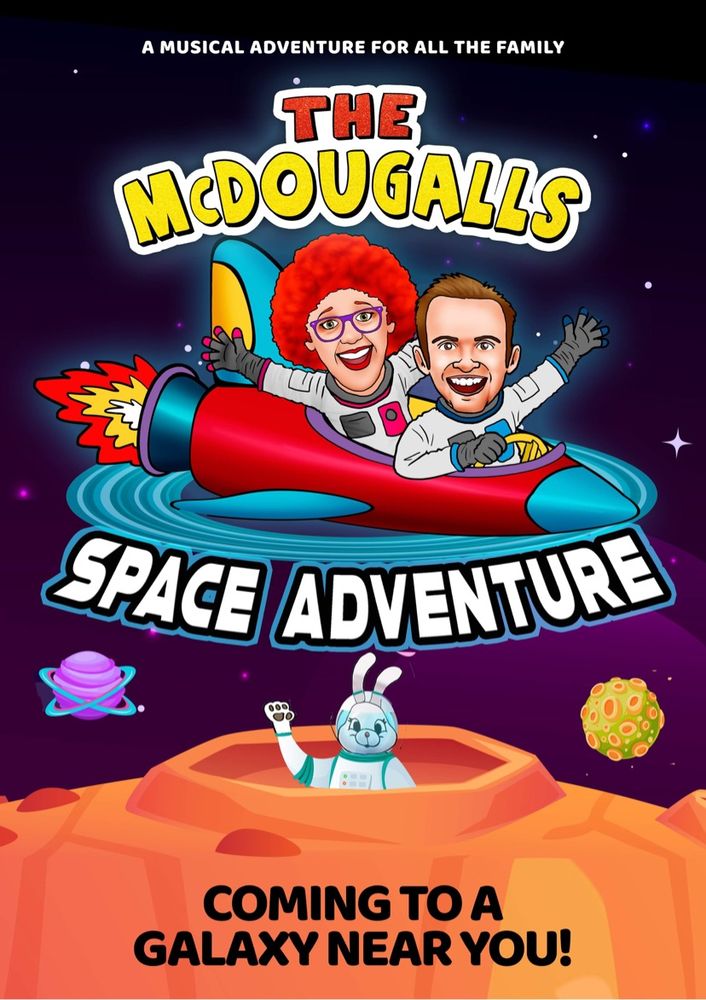 Show details:
Date: Saturday 21st October
Doors open: Half an hour before the show starts
Performance starts:  1pm
Running Time: 1 Hour
Tickets:
Adults £10
Children £10
Family/Group of 4 £38.00